The Back Bar display for 2017 has been cancelled.It will return in 2018!! New location needs to be checked out and measured.
The Back Bar display features rare, premium-quality, lighted breweriana of Pre-prohibition to early 1950s vintage. Numerous lighted items and go-withs are contributed by twenty participants from across the country. Everyone who attends the Blue Gray show is eligible to vote for their favorite item in the Best of Show Contest. Awards and prizes are presented to the winner, 1st runner-up and 2nd runner-up. Awards, contest ballots and prizes are paid for by the Blue a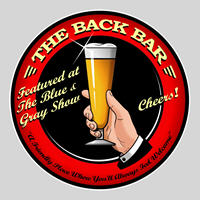 nd Gray Show.

In addition to the display, The Back Bar Lounge opens to all display participants and Blue Gray show attendees. The lounge features more early lighted breweriana for display and sale, and a 1930s-style seating area for display participants and Blue Gray attendees. Relax and chat while enjoying a cold draft beer from the Blue Gray hospitality room; listen to popular music from the Big Band Era; or watch classic black and white movies.


"The Back Bar" is presented by ABA/ECBA/NABA member John Bain. To see a visual retrospective on past displays, click the link and enjoy! Click to view the slideshow. (You may need to disable your browser's popup blocker)